ABOUT ME
I love Data Visualisation.
A creative and innovative graduate student currently studying for Master of Science - Psychology in London. With previous training at Modelling in Informatics Lab in Taiwan and experiences in doing research. Our lab focuses on using informatic tools to solve social psychological issues. I have great passion for organizing and managing data. Specialized in R, Javascript and familiar with Python, PHP. I favor customized tools and is self-learning d3 library for more flexibility. I am currently searching for opportunities in data analysis and data visualisation in London. My recent research focus is on human perception and attention as well as information processing. I dream to apply cognitive psychology into designing data visualisations for accurate information to be more efficiently processed by readers. Apart from my professions I enjoy reading, jogging and playing the violin in my freetime.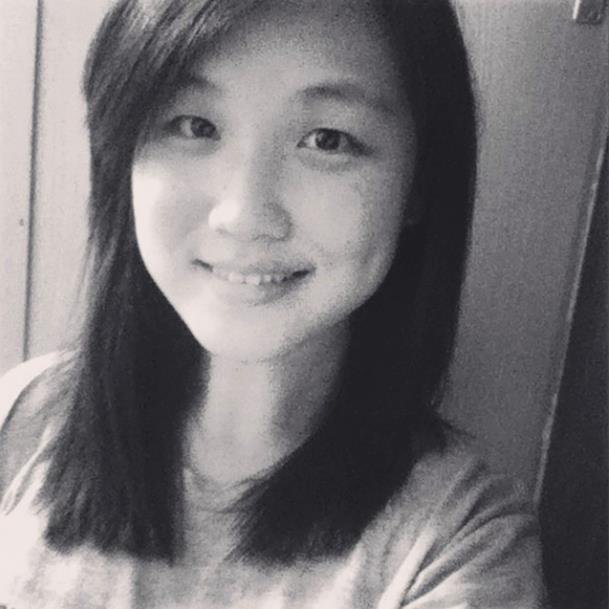 Goldsmiths, University of London
Graduate student, Psychology major
Expected to graduate: Summer, 2019
Relevant Modules:
Multivariate Statistical Models, Aesthetic Science
Research Design and Analysis, Creative Coding
CONFERENCE PUBLICATION
Hung, W., Ng, K.T., & Huang, T.-R. (2018) Retrieval­Induced Forgetting in Social Contexts: A Meta­Analysis. The 30th Association for Psychological Science (APS) Convention. San Francisco, USA.
RESEARCH EXPERIENCES
Pyschology Department, National Taiwan University
Research Assistant, 01/2017 - 08/2018
> Project1: Meta analysis of Retrieval-Induced Forgetting Phenomena
> Project2: The Underlying Mechanism of Socially-Shared Retireival-Induced Forgetting
WORK EXPERIENCES
Standard Stimuli and Normative Responses of Emotions
> Database Administrator, 03/2017 - 06/2018




IPSOS
> Market Researcher, 06/2015 - 04/2016
Taiwanese Psychological Association
> Secretary, 01/2017 - 06/2018
Political and Economic Section, American Institute in Taiwan
> Internship, 03/2012 - 06/2012
EDUCATION
MSc Psychology of the Arts, Neuroaesthetics and Creativity, Goldsmiths University of London, UK
Exchange, Business Studies, Uppsala University, Sweden
BA Diplomacy, National Chengchi University, Taiwan
AWARDS
The Best Project Performance, International Business, Sweden, Spring 2013
Best Delegation, Taipei Model United Nations, Taiwan, Fall 2011
The Academic Acheivement Award (Top 5%), National Chengchi University(NCCU), Taiwan, Spring 2010
EXTRA-CURRICULAR ACTIVITIES
Taiwanese Community, Goldsmiths University, London UK
President, 10/2018-Present


2018 PUMA Night run Half Marathon, Taipei Taiwan
Finisher


2014 NIKE Women Half Marathon, Taipei Taiwan
Finisher


Marketing Sector, 32nd Uppsala International Short Film Festival 2013, Uppsala Sweden
Volunteer, 10/2013


Theatre Group, Östgöta Nation, Uppsala Sweden
Member, 10/2013
Retrieval-Induced Forgetting Phenomena: A meta-analysis
Introduction
"Within-individual Retrieval-induced Forgetting" (WI-RIF) refers to the phenomenon that an individual's selective retrieval of items (Rp+) often causes more forgetting of categorically related and yet unrehearsed items (Rp-) than categorically unrelated and unrehearsed items (Nrp). WI-RIF has been also reported in social settings as "Socially-shared Retrieval-induced Forgetting" (SS-RIF). For example, when a group of people mention parts of their shared experience in conversations, both speakers and listeners suffer from forgetting of related and yet unmentioned memory.
We conducted meta-regression on 59 studies.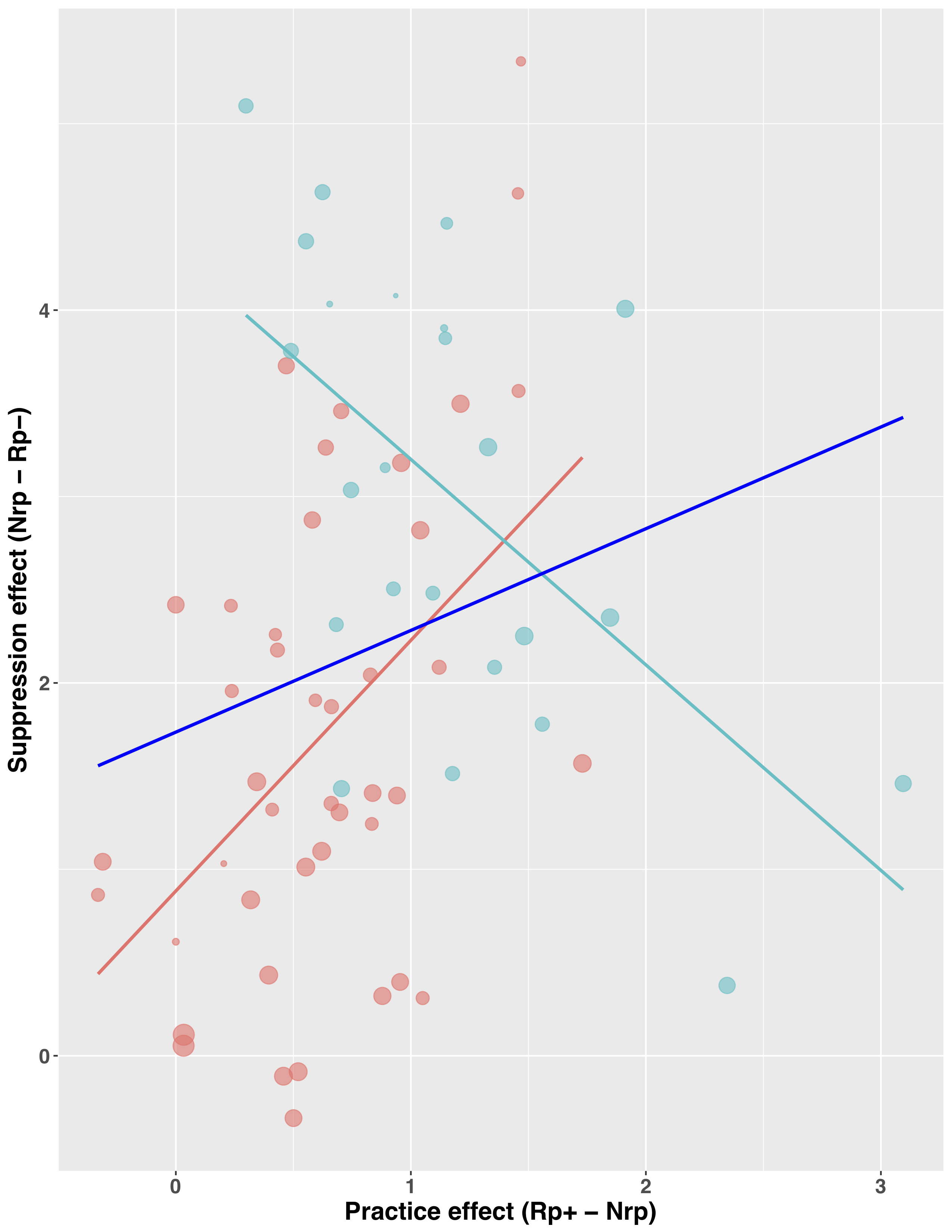 Overall results show the Practice Effect is negatively correlated to the Suppression Effect when the practice session were free conversations (blue dots).
Memorability Bias: The more memorable the material, the more likely it is to be mentioned in a conversation and to be subsequently remembered (Cue et al., 2007).
Therefore, we are interested to test Memorability Bias under both free conversation and non-free conversation practice sessions.
Our hypothesis is the large effect size of Socially-shared Retrieval-induced Frogetting under free-conversations and the negative correlation is due to the effect of Memorability Bias.
We further test this hypothesis by conducting experiments.
The Underlying Mechanism of Socially-Shared Retireival-Induced Forgetting
Conducting experiment on a young group of people aged between 20~35, and an older group aged above 60. The results as following aligned to the meta-analysis.
The figure below shows that the more memorable the item, the more likely it is to be recalled during practice, becoming a Rp+ items, whereas the less memorable items are less recalled during practice. Therefore, becomes Rp- items more often. So apart from the RIF effect, the Memorability Bias is having an affect on the large effect size.
Swipe right to see old people's results.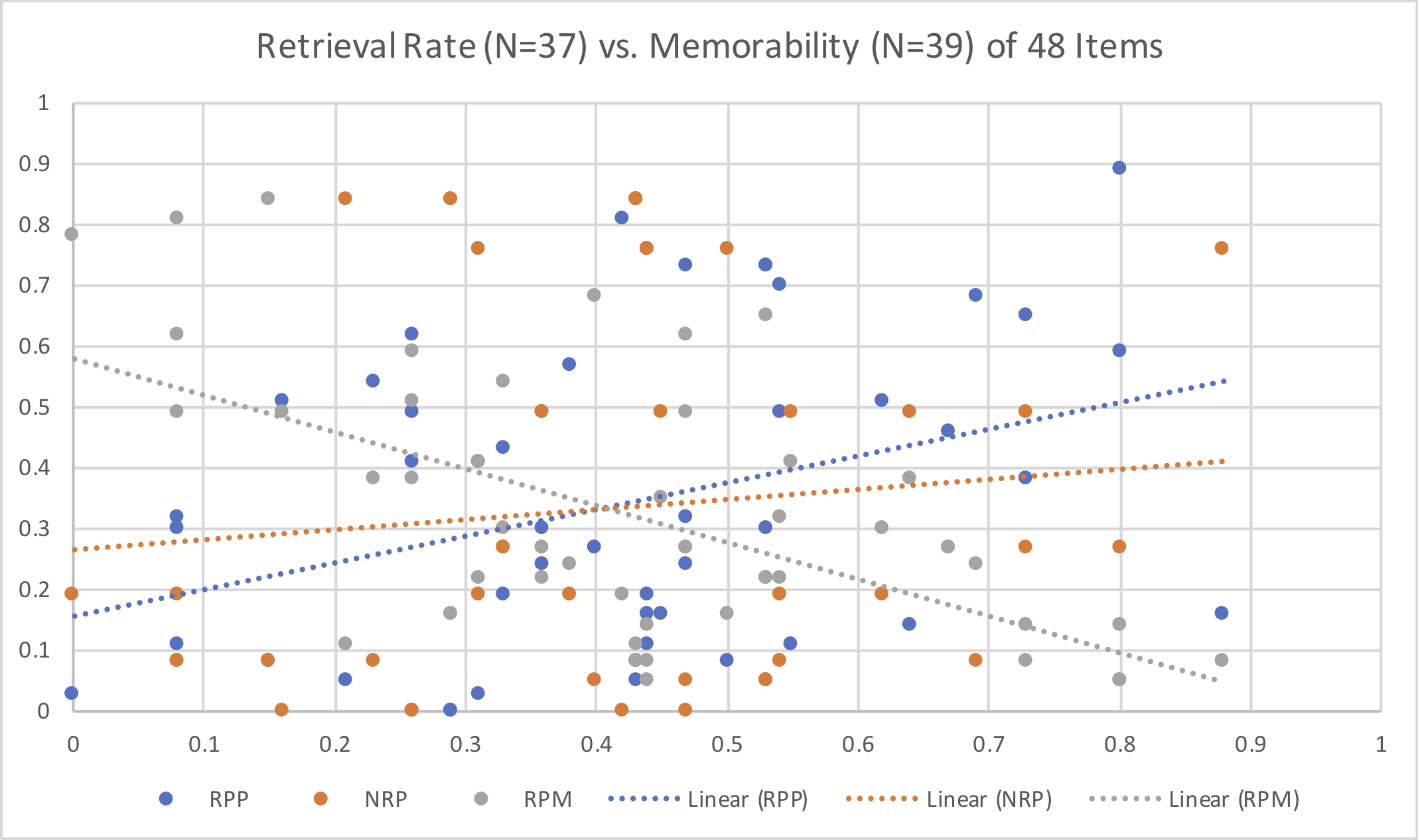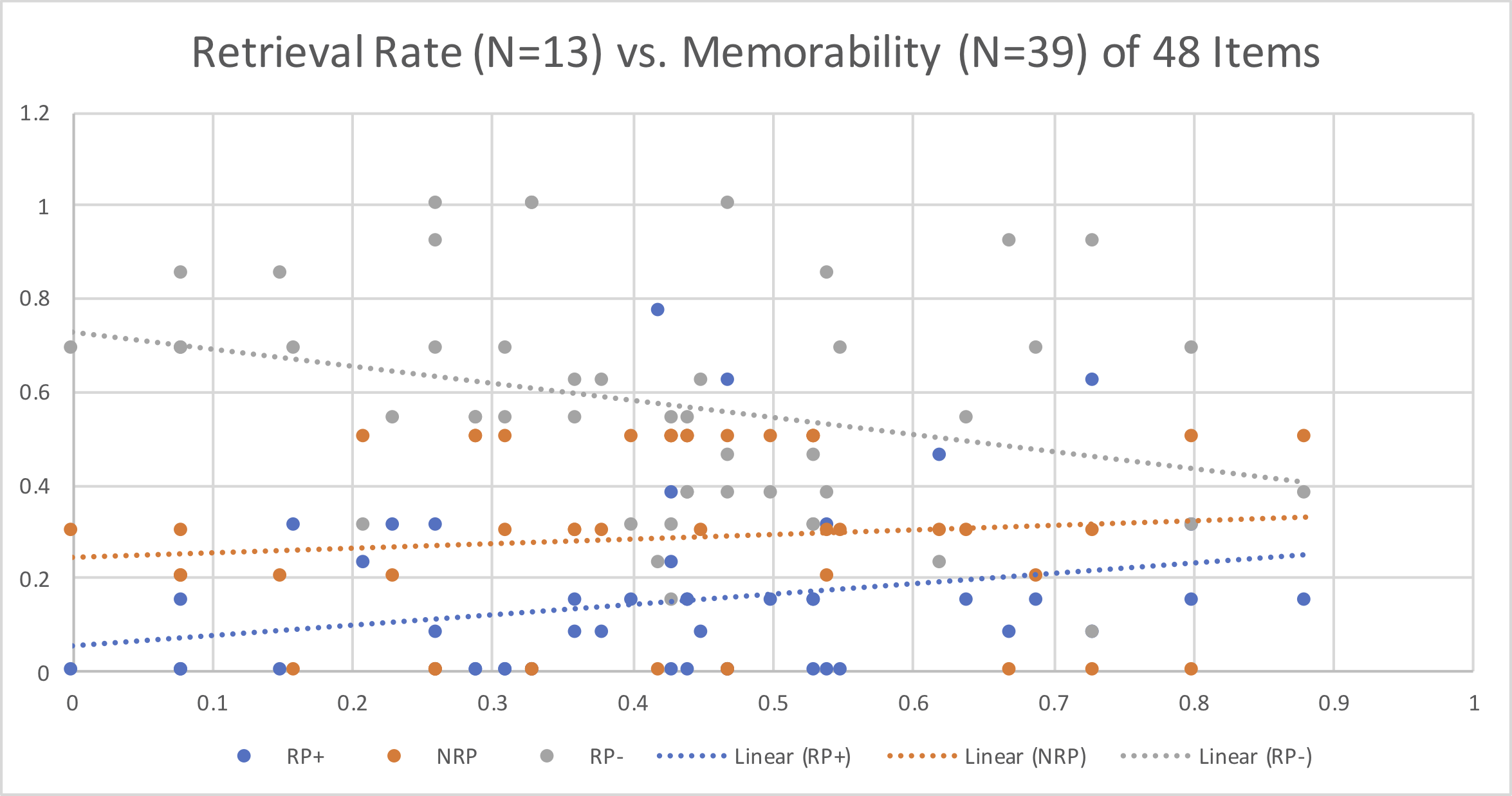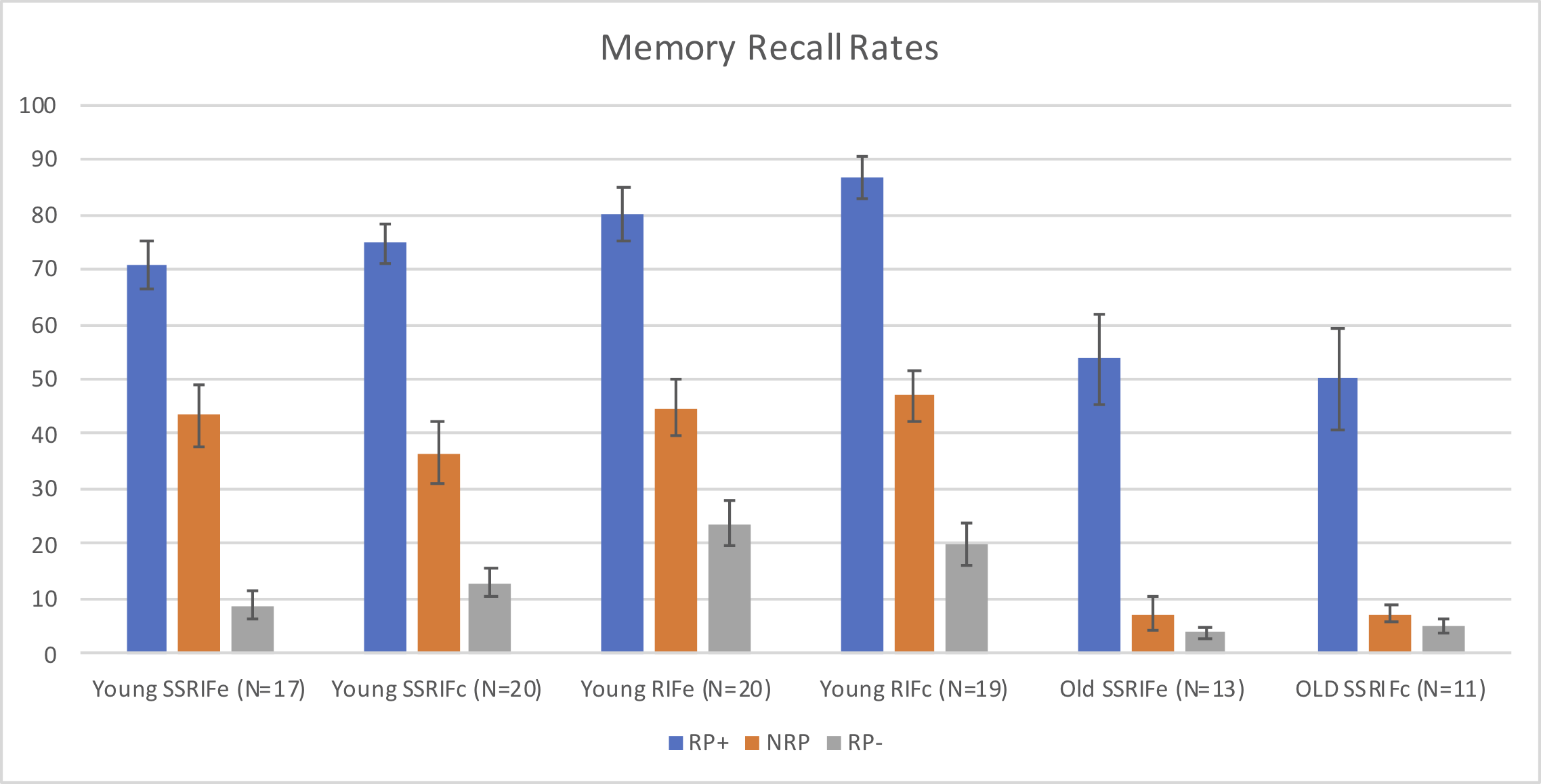 References
1. Anderson, M. C., Bjork, R. A., & Bjork, E. L. (1994). Remembering can cause forgetting: Retrieval dynamics in long-term memory. Journal of Experimental Psychology: Learning, Memory, and Cognition, 20, 1063-1087.
2. Murayama, K., Miyatsu, T., Buchli, D., & Storm, B. C. (2014). Forgetting as a consequence of retrieval: A meta-analytic review of retrieval-induced forgetting. Psychological Bulletin, 140, 1383–1409. 

3. Stone, C. B., Barnier, A. J., Sutton, J., & Hirst, W. (2010). Building consensus about the past: Schema consistency and convergence in socially shared retrieval-induced forgetting. Memory, 18, 170-184.